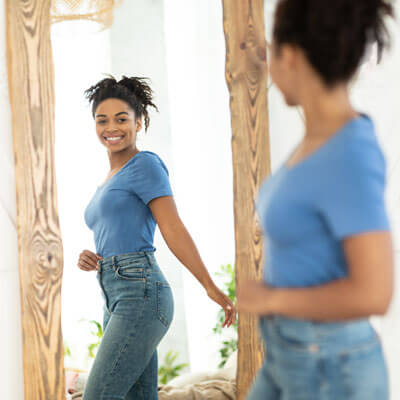 Keto. Mediterranean. Intermittent fasting. Low-calorie diets. Weight-loss drugs. There are many pound-paring approaches these days, but do they work? Many people are searching for a quick solution to lose a lot of weight rapidly. But that's likely to result in a short-term gain to a long-term problem.
"Many weight loss methods aren't sustainable, and they can cause harm," said
Dr. Siow
.
She shares her top recommendations for losing weight and keeping it off.
1. Control Those Portions
The reason people gain weight is that their metabolism is below the capacity for the amount of food they're taking in. We need to control our portions, so we don't eat more than we should.
"It's also important to have a clear mind, so we can eat consciously. That's where having a healthy nervous system to support a brain-gut communication comes in," said Dr. Siow.
2. Digest Your Food Properly
You're not what you eat, but what you digest. If you can digest your food completely, metabolize and use the nutrients, you won't become overweight. Do not skip meals and be consistent with meal times to help support healthy metabolism.
3. Incorporate the 6 Ayurvedic Tastes
In Ayurveda, there are six tastes that you should have in all your meals:
Pungent
Astringent
Bitter
If you're trying to lose weight, focus on the pungent, bitter, and astringent tastes to help with faster detoxification and metabolism.
Bitter is one of the lightest tastes, and it's helpful for stoking the digestive fire and detoxifying the body. One example is endive; make sure you cook it though.
Examples of astringent foods would be all the green leafy vegetables. Prefer fruit? Pomegranate is a good choice, as it has an astringent quality.
Pungent examples include garlic, peppers, mustard, and cinnamon.
When you have those six tastes in your diet, it sends a message to the brain that "I'm satisfied." You will feel full.
4. Eat Balanced Meals
Meals should be complex, with a good balance of carbohydrates, proteins and vegetables. Dr. Siow also recommends eating soup, because when you do so, it fills up your stomach more, and then you feel full faster and will be satisfied.
5. Engage in Regular Exercise
Keeping your body moving can help keep your metabolism revved up. The important thing about exercise is to choose something you enjoy doing, so you'll likely stick with it.
6. Get Adjusted
You may wonder what chiropractic care has to do with weight loss. "Having a healthy nervous system with a spine clear of subluxations allows your brain to be clear about when, what and how you should eat," said Dr. Siow.
If you would like to book an appointment or receive more information about sustainable weight loss, contact us today!