Chiropractic Care
Our mission is to bring optimal health through empowering one's own natural healing wisdom and abilities.
At Satori Spinal Wisdom, LLC, you will receive integrated care, drawing from a broad range of healing modalities and techniques. Experience true health and well-being with us!
A Holistic Approach
Dr Siow's holistic approach to health is derived from chiropractic principles of detection and treatment of subluxation and time-proven ancient philosophy of health, refined over the years in her practice.
Subluxation is when pain and dis-ease result from an inability of the body to integrate physical, mental, emotional and chemical inputs externally with internal experiences.
This creates resistance and dis-ease resulting in a lack of coherence (coordination and adherence). This shifts the mind and body to stress and defensive physiology which, over time, alters one's baseline of energy utilization and overall health and wellbeing.
Pain and dis-ease indicate a mind and body in a repetitive cycle of dysfunction operating through the nervous system.
The saying doing the same thing over and over again expecting a different result is madness holds true here. Getting well requires a transformation and a re-establishment of the nervous system in a more energetic and life enhancing state of coherence.
Dr. Siow has earned a reputation as a gentle chiropractor who gets results from simple to challenging cases by looking at the person as a whole being, thinking outside the box and truly caring for her patients.
Dr Siow achieves the above objective through:

Cold Laser Therapy
Ionic foot bath detox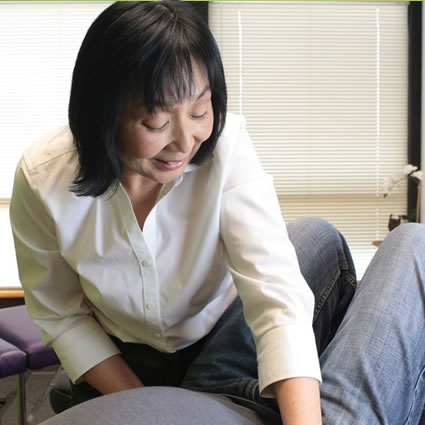 Network Spinal (NS) for Pregnancy and Pediatrics
Many adult issues begin as early as newborns. There is no better way to prepare for a new life than ensuring the health of a pregnant mother and assisting in a healthy birth. The birthing process can be the cause of the baby's first spinal misalignment due to the complex nature of birth. At Satori Spinal Wisdom many babies are checked within the first days after birth to ensure proper growth and development.
When you see a lot of problem adults have resulting from youth, it makes sense to start Network Spinal care as early in life as possible. In addition to the physical tumbles and falls, what we may not see is the mental and emotional strain along the way to adulthood. Children may not have the means to verbalize their discomfort. A trained pediatric practitioner can feel how that strain is carried in their spine. NS care helps children to meet that tension and release it in a safe way without holding onto that tension causing spinal distortion.
Regular chiropractic care can benefit babies and children in the following ways.
Ease colic symptoms
Ease gastroesophageal reflux or GERD
Assist in treating and preventing ear infection
Support immune system
Aids in recovery from tumbles and falls
Ensures proper physical development
Re-claim Your Health
Are you ready to schedule an appointment, but want to discuss some questions with us first? Contact Satori Spinal Wisdom, LLC today to learn more about Dr. Siow's care!
CONTACT US

Chiropractic Care | (719) 785-1175